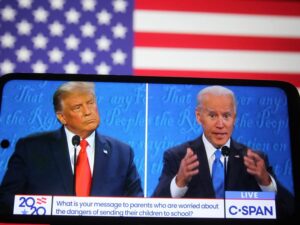 Democratic President "Joe Biden" ranks Republican front man "Donald Trump" in five of the six most important battleground states exactly one (1) year before the U.S. election as Americans express doubts about Biden's age and dissatisfaction toward his managing of the economy, polls released on Sunday showed.
The polls were conducted by the New York Times and Siena College. Mr Trump, leading the field for his party's 2024 nomination as he seeks to regain the presidency, leads in Arizona, Georgia, Michigan, Nevada and Pennsylvania, with President Biden ahead in Wisconsin, the polls showed. The President defeated the formal President Mr Trump in all six states in the 2020 election. The formal President now leads by an average of 48% to 44% in the six states, the polls showed.
While polls assessing the national popular vote have consistently showed Biden and Mr Trump in a close race, presidential elections typically are decided by the outcomes in a handful of so-called swing states.
The President victories in Arizona, Georgia, Michigan, Pennsylvania and Wisconsin – all swing states that Mr Trump carried in 2016 – were instrumental in his 2020 victory. President Biden likely would need to carry many of those state again to win .