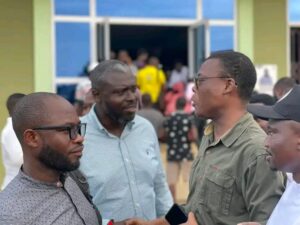 The parliamentary candidate for the good people's of Asante Akyim North constituency "Hon Chief Kofi Asamoah " as part of his campaign messages to his constituent during their parliamentary primaries promises to cure rampant unemployment and lack of developmental projects within the constituency with skills training exercise for his constituent.
As part of that Hon Chief Kofi Asamoah today organise a skills training exercise for the good people's of Asante Akyim North constituency. The motive for this training is to uproot unemployment rate in the youth within his constituency. The training includes the following,
Soaps and Detergent bar soap, medicated soap, shower gel, liquid soap and afterwash,
Fruits juice and Drinks atadwe milk ,sobolo, asana etc
Cosmetics ,Tin tomatoes making ,Bridal hats and fascinators
The Honourable parliamentary candidate also promise to support the serious learners with some money to establish themselves so that unemployment rate will reduce in his constituency.
Furthermore a thank you tour with Hon Chief Kofi Asamoah and his constituency executives to various electoral areas to thanks his constituent for the power imposed in him to lead them to the promise land coming 2024 general elections .The visited electoral areas are Domeabra,Pekyerekye,Juansa,Agogo, Adeamra and other electoral areas.
Cue : Hon Chief Kofi Asamoah Parliament Candidate for Asante Akyim North constituency NDC
Story by: Opanyin Kwabena Gyamfi