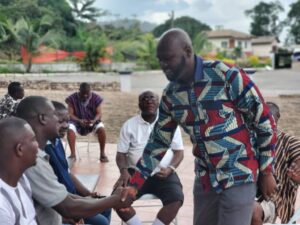 It was glorious, as I joined Constituent relatives, friends and colleagues, on Saturday, 4th November, 2023, in Mpreaso, in the Delegates Congress of the NPP to elect a new Leader after H.E. Nana Akufo-Addo's 16 years at the helm of the Party.
At the close of polls in Mpraeso, at exactly 2 pm, and after counting the ballots, H.E. Dr. Mahamudu Bawumia won and was declared winner by the returning Officer of the Electoral Commission.
It was a historic moment for me to witness the victory of Dr. Bawumia.
I am glad that at the end of the day, my Constituency was on the winning side of history.
I have always believed in the possibilities offered by the leadership of the Vice President.
Just as I indicated before the Election, Dr. Bawumia is our very best option for Election 2024, and I am glad that his message resonated well with the rank and file of our Party.
I am pleased to have supported those who worked tirelessly, especially MCE Hon. Emmanuel Atta Ofori Sr. and our Secretary Big Ben, to ensure the victory in our beloved Constituency.
Indeed, with Dr. Bawumia, the NPP's victory in 2024 is possible!
Prince Ofosu Sefah.
CEO, GIFEC.
Board Chairman, GDCL/ADC.